Altec Shanghai Flow Handling
Equipment Co., Ltd.
Altec International Holdings Ltd.
1 LianDian Rd Jiuhua Town Rugao City
Nantong City,Jiangsu, China
Tel: +86-21-5497 3128
+86-21-5497 0510
Email: sales@alteccn.com


Ethylene PTFE Expansion Joints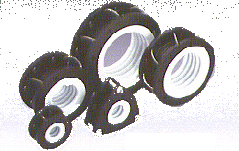 Altec is the stock and manufacturing distributor on hoses and fittings of Pureflex Inc. USA in China and South East Asia. PureFlex is a world leading manufacturer of high performance Fluoropolymer and composite products and technologies. We specialize in supply of fluid handling and sealing products designed for chemical, pharmaceutical and ultra-pure related industries.
Our products are engineered and manufactured for maximum flexibility and performance against the broadest range of chemicals, temperatures and pressure extremes. For sanitary and ultra-pure applications, our products meet and/or exceed Pharmacopoeia USP23 Class VI, FDA 21CFR-177.2600, USDA and 3A criteria.
● Ethylene Flexijoint PTFE Expansion Joints ·Size Range: 1/2"~42"
·Maximum Travel: 2~12 Convolutions;
·Working Temperature: up to 230℃
·T-Bands and Limit Links
·VacuBands enable through 42" to be full vacuum rated at 230℃
·Optional Types: Limit bolt, AntiSquirm, Hinged, AnchorBase, Universal, Gimballed, etc.
·Other Options: Special length, Liner sleeve, Safety shield, Grounding straps, Alloy selections for VacuBands, Stainless Steel Flanges/T-Bands, Durcor-62 advanced composite flanges with 1/2 the weight and zero corrosion rate.

● Ethylene FlexArmor PTFE Lined Bellows ·Size Range: 1-1/2"~24"
·Maximum Travel: 4~12 Convolutions
·Working Temperature: up to 230℃
·VacuBands enable through 24" to be full vacuum rated at 230℃
·Flange Options: Carbon steel, Stainless steel, other nickel alloys.
ANSI 150#/300#, DIN, JIS, other special configurations.
·Metal shield options: Stainless steel, Hastelloy, Monel, etc.