Altec Shanghai Flow Handling
Equipment Co., Ltd.
Altec International Holdings Ltd.
1 LianDian Rd Jiuhua Town Rugao City
Nantong City,Jiangsu, China
Tel: +86-513-8759 1178
Email: sales@alteccn.com


Smoothbore PTFE/PFA Lined Hose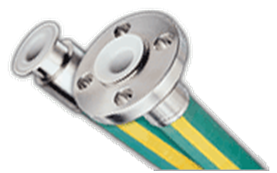 Altec is the stock and manufacturing distributor on hoses and fittings of Pureflex Inc. USA in China and South East Asia. PureFlex is a world leading manufacturer of high performance Fluoropolymer and composite products and technologies. We specialize in supply of fluid handling and sealing products designed for chemical, pharmaceutical and ultra-pure related industries.
Our products are engineered and manufactured for maximum flexibility and performance against the broadest range of chemicals, temperatures and pressure extremes. For sanitary and ultra-pure applications, our products meet and/or exceed Pharmacopoeia USP23 Class VI, FDA 21CFR-177.2600, USDA and 3A criteria.
● Flexchem: Rubber Covered Smooth Bore, Virgin and Conductive Liners
·Liner Materials: Heavy duty PTFE, FEP,
·Cover: EPDM rubber
·Size Range: 1/2"~6"
·Pressure Rating: Full vacuum to 3.5MPa
·Temperature Rating: -40℃~175℃


● SmoothFlex: Braided Smooth Bore, Virgin and Conductive Liners
·Liner Materials: PTFE, PFA
·Cover: Stainless Steel Braid, Optional Silicone outer cover
·Size Range: 1/8"~1-1/2"
·Pressure Rating; Full Vacuum to 35MPa
·Temperature Rating: -54℃~230℃

● MTH: Braided Smooth Bore, Double Contained

·Liner Materials: PTFE

·Cover: Stainless Steel Convoluted and Braid
·Size Range: 1"~10"
·Pressure Rating: Full vacuum to 1.9MPa
·Temperature Rating: -54℃~175℃